Rep. Jackie Walorski Killed In Car Crash On Indiana Road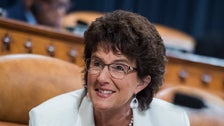 Longtime GOP Rep. Jackie Walorski of Indiana was killed in a Wednesday afternoon car accident, House Minority Leader Kevin McCarthy confirmed.
"She has returned home to be with her Lord and Savior, Jesus Christ," Walorski's office said in a statement shared by McCarthy on Twitter.
"Please keep her family in your thoughts and prayers. We will have no further comment at this time," her office said.
The two others in the vehicle with Walorski, her communications director Emma Thomson, 28, and district director Zachary Potts, 27, were also killed, along with the driver of the other car, CBS News and local outlet ABC 57 reported.
Walorski was 58. After serving in the Indiana state House of Representatives for five years, she was first elected to Congress in 2012, representing an area in a northern part of the state that includes South Bend and Elkhart.
The other vehicle was traveling northbound when it crossed over into oncoming traffic and hit the Walorski's southbound SUV head-on, according to CBS News.
Transportation Secretary Pete Buttigieg, former mayor of South Bend, said he was "shocked and saddened to hear of the tragic death of Congresswoman Jackie Walorski."
"Though we came from very different places politically, she was always prepared to work together where there was common ground, always decent and straightforward, and she cared deeply about her work and her constituents," Buttigieg said.
This story is developing. Please check back soon for more.