NFL cuts tracker 2021: Live roster news, updates, notable cuts for all 32 teams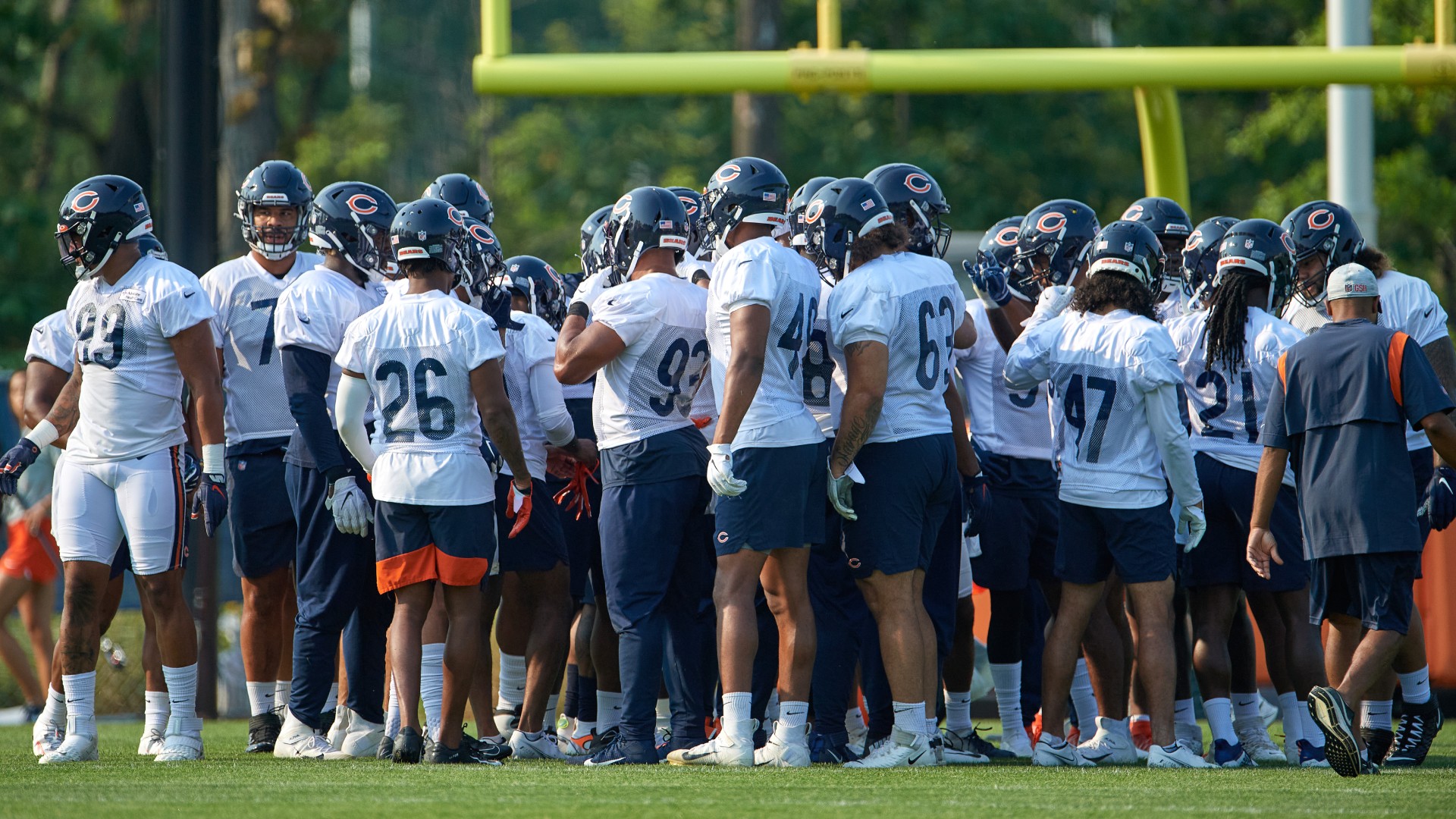 The NFL is about to undergo its final roster purge of the 2021 preseason. As always, it will be the largest one.
By 4 p.m. ET on Tuesday, Aug. 31, NFL teams will have to cut their 80-man rosters down to just 53 ahead of the regular season. That means that roughly 864 players will find themselves without work, even if it's just temporary.
Most of the players cut were fighting for practice squad spots, so their respective releases will not be surprising. However, every year there are a few unexpected cuts that catch NFL fans off guard. Last year, a couple of running backs — Adrian Peterson and Leonard Fournette — were cut by Washington and Jacksonville respectively. Both found work shortly thereafter.
Odds are that will happen again for some of the players that are released. Teams will continue to tinker with their rosters ahead of the season, and that's why there's a waiver period for players in the 24 hours following final cuts. Those that don't end up on rosters will have a chance to ink practice squad contracts when that period ends. NFL teams have 16 practice squad spots for 2021.
Here's a look at every player that is looking for work after the NFL's cut to 53.
MORE: How much do NFL practice squad players make?
NFL cuts tracker 2021: Live team-by-team roster updates
Below are the NFL roster cuts made ahead of Tuesday's 4 p.m. ET deadline to trim rosters down to 53. Cuts will be listed as they come in.
(NFL roster cuts news via NFL.com, team reports and other media reports.)
Arizona Cardinals roster cuts
OL Shaq Calhoun
RB Tavien Feaster
WR KeeSean Johnson
OL Michal Menet
DL Cam Murray
CB Picasso Nelson
WR A.J. Richardson
LB Evan Weaver
P Ryan Winslow
LB Bryson Young
DB Chris Banjo
CB Jace Whittaker
WR Andre Baccellia
DB James Wiggins
S Shawn Williams
LB Terrance Smith
Atlanta Falcons roster cuts
CB Delrick Abrams 
DL Eli Ankou
OL Willie Beavers
WR Trevor Davis
DL Zac Dawe
LB Emmanuel Ellerbee 
RB D'Onta Foreman
WR Juwan Green
RB Caleb Huntley
S Dwayne Johnson
OLB Kobe Jones
OL Sam Jones
P Dom Maggio
OL Ryan Neuzil
WR Antonio Nunn
S JR Pace
TE John Raine
WR Chris Rowland
OL Joe Sculthorpe
OLB Tuzar Skipper
DL Chris Slayton
OL Kion Smith
LB Erroll Thompson
TE David Wells
CB Chris Williamson
Baltimore Ravens roster cuts
WR Devin Gray
WR Siaosi Mariner
OL Michael Schofield
TE Tony Poljan
DT Justin Ellis
DB Nigel Warrior
DL Chris Smith
K Jake Verity
Buffalo Bills roster cuts
WR Brandon Powell
CB Tim Harris
RB Kerrith Whyte
OL Jack Anderson
WR Tanner Gentry
TE Quintin Morris
TE Nate Becker
RB Antonio Williams
OL Jamil Douglas
WR Steven Sims
TE Jacob Hollister
DB Cam Lewis
DB Josh Thomas
Carolina Panthers roster cuts
QB Will Grier
S Doug Middleton
K Joey Slye
LB Paddy Fisher
LB Jonathan Celestin
RB Darius Clark
WR Ishmael Hyman
WR Omar Bayless
RB Spencer Brown
DL Frank Herron
OL Mike Horton
CB Jalen Julius
WR Keith Kirkwood
OLB Christian Miller
TE Stephen Sullivan
OL Aaron Monteiro
WR C.J. Saunders
OL Sam Tecklenburg
CB Rashaan Melvin
DB Kenny Robinson
RB Reggie Bonnafon
Chicago Bears roster cuts
TE Scooter Harrington
OL Adam Redmond
DL Daniel Archibong
DB Dionte Ruffin
WR Chris Lacy
WR Riley Ridley
OL Dieter Eiselen
WR Jon'Vea Johnson
LB Sam Kamara
CB Thomas Graham Jr.
RB Ryan Nall
K Brian Johnson
RB Artavis Pierce
LB James Vaughters
LB Charles Snowden
OL Arlington Hambright
WR Isaiah Coulter
WR Dazz Newsome
CB Desmond Trufant
Cincinnati Bengals roster cuts
OL Michael Jordan
TE Mason Schreck
CB Antonio Phillips
WR Trent Taylor
RB Pooka Williams Jr.
Cleveland Browns roster cuts
S Elijah Benton
WR Ja'Marcus Bradley
TE Jordan Franks
G Colby Gossett
DE Porter Gustin
LB Willie Harvey
WR KhaDarel Hodge
DE Joe Jackson
RB John Kelly
QB Kyle Lauletta
DE Cameron Malveaux
TE Kyle Markway
S Jovante Moffatt
C Javon Patterson
S Sheldrick Redwine
CB Emmanuel Rugamba
LB Tegray Scales
FB Johnny Stanton IV
OT Alex Taylor
DE Curtis Weaver
DT Marvin Wilson
CB Brian Allen
DT Sheldon Day
LB Elijah Lee
WR JoJo Natson
Dallas Cowboys roster cuts
QB Garrett Gilbert
QB Ben DiNucci
S Darian Thompson
DL Ron'Dell Carter
S Tyler Coyle
DT Austin Faoliu
S Steven Parker
OT Eric Smith
RB JaQuan Hardy
RB Brenden Knox
OL Braylon Jones
DB Deante Burton
WR Brandon Smith
WR Johnnie Dixon
TE Artayvious Lynn
Denver Broncos roster cuts
QB Brett Rypien
LB Curtis Robinson
OT Drew Himmelman
FB Adam Prentice
WR Kendall Hinton
TE Austin Fort
TE Shaun Beyer
OL Austin Schlottmann
CB Saivion Smith
DL Isaiah Mack
WR Tyrie Cleveland
OLB Derrek Tuszka
CB Mac McClain
RB Stevie Smith
WR Seth Williams
DB Trey Marshall
LB Barrington Wade
WR De'Mornay Pierson-El
OL Quinn Bailey
DL Marquiss Spencer
Detroit Lions roster cuts
WR Breshad Perriman
CB Mike Ford
WR Victor Bolden
DT Miles Brown
DB Alijah Holder
OL Evan Heim
WR Damion Ratley
OT Dan Skipper
OT Tyrell Crosby
LB Jahlani Tavai
RB Craig Reynolds
DL Bruce Hector
WR Geronimo Allison
LB Tavante Beckett
OL Darrin Paulo
Green Bay Packers roster cuts
CB Stephen Denmark
CB Rojesterman Farris
RB Dexter Williams
OL Ben Braden
DB Christian Uphoff
QB Kurt Benkert
DL Tipa Galeai
DB Kabion Ento
WR Reggie Begelton
K JJ Molson
WR Equanimeous St. Brown
DL Willington Previlon
LB Ray Wilborn
WR Damon Hazelton
WR Juwann Winfree
TE Bronson Kaufusi
DL Carlo Kemp
DL Abdullah Anderson
Houston Texans roster cuts
OL Carson Green
RB Buddy Howell
OL Danny Isidora
TE Ryan Izzo
CB Rasul Douglas
CB Shyheim Carter
QB Jeff Driskel
LB Tae Davis
CB Cornell Armstrong
OL Jordan Steckler
WR Jordan Veasy
Indianapolis Colts roster cuts
S Sean Davis
CB Holton Hill
LB Curtis Bolton
S Ibraheim Campbell
OL Will Holden
RB Benny LeMay
RB Deon Jackson
DL Kameron Cline
TE Kahale Warring
DL Andrew Brown
S Shawn Davis
LB Malik Jefferson
TE Farrod Green
Jacksonville Jaguars roster cuts
CB Corey Straughter
WR Laquon Treadwell
DL Doug Costin
LB Quincy Williams
S Josh Jones
WR Jeff Cotton Jr.
WR Phillip Dorsett
Kansas City Chiefs roster cuts
RB Derrick Gore
LB Zayne Anderson
RB Darwin Thompson
QB Shane Buechele
Las Vegas Raiders roster cuts
DB Isaiah Johnson
OL Devery Hamilton
WR Keelan Doss
DL Kendal Vickers
S Karl Joseph
Los Angeles Chargers roster cuts
LB Jessie Lemonier
CB KJ Sails
LS Cole Mazza
OL Tyree St. Louis
OLB Davin Bellamy
LB Nate Evans
OT Darius Harper
WR John Hurst
TE Matt Sokol
CB Donte Vaughn
DL Willie Yarbary
TE Hunter Kampmoyer
LB Emeke Egbule
LB Joe Gaziano
DB John Brannon
WR Michael Bandy
K Michael Badgley
RB Darius Bradwell
WR Tyron Johnson
DL Breiden Fehoko
Los Angeles Rams roster cuts
CB Brontae Harris
OL Jeremiah Kolone
WR Jeremiah Haydel
OL Jordan Meredith
CB Donovan Olumba
DB Troy Warner
DL Eric Banks
WR Landen Akers
LB Christian Rozeboom
Miami Dolphins roster cuts
CB Tino Ellis
DL Tyshun Render
WR Khalil McClain
C Matt Skura
LB Benardrick McKinney
RB Jordan Scarlett
FB/TE Carl Tucker
WR Kai Locksley
TE Chris Myarick
QB Reid Sinnett
DB Javaris Davis
Minnesota Vikings roster cuts
RB Ito Smith
C Cole Cabral
DT Zeandae Johnson
DE Hercules Mata'afa
WR Myron Mitchell
TE Shane Zylstra
OL Kyle Hinton
OL Dakota Dozier
LB Tuf Borland
TE Zach Davidson
OL Dru Samia
QB Jake Browning
RB Jake Bargas
OL Zack Bailey
WR Whop Philyor
DB Luther Kirk
New England Patriots roster cuts
QB Cam Newton
DL Montravius Adams
WR Kristian Wilkerson
WR Isaiah Zuber
DB Myles Bryant
G Alex Redmond
DB Adrian Colbert
TE Matt LaCosse
DB D'Angelo Ross
DB Dee Virgin
OL Will Sherman
DL Bill Murray
WR Tre Nixon
DT Akeem Spence
K Nick Folk
New Orleans Saints roster cuts
RB Devonta Freeman
OL Christian Montano
DL RJ McIntosh
OL Derrick Kelly
CB Natrell Jamerson
DB Eric Burrell
LB Shaq Smith
DL Josiah Bronson
FB Alex Armah
WR Kawaan Baker
WR Easop Winston
OL JR Sweezy
OL Caleb Benenoch
QB Trevor Siemian
New York Giants roster cuts
OL Chad Slade
DB Madre Harper
TE Nakia Griffin-Stewart
LB Niko Lalos
WR Matt Cole
WR David Sills
QB Brian Lewerke
WR Damion Willis
RB Corey Clement
WR Alex Bachman
WR Austin Mack
DL Willie Henry
OL Jonotthan Harrison
OL Kenny Wiggins
OL Jake Burton
OL Brett Heggie
DL Ifeadi Odenigbo
LB Devante Downs
DB Chris Johnson
OL Jackson Barton
OL Ted Larsen
New York Jets roster cuts
DB Lamar Jackson
WR Lawrence Cager
S Bennett Jackson
DL Jeremiah Valoaga
DB J.T. Hassell
OL Corey Levin
LB Aaron Adeoye
OL Jimmy Murray
OL David Moore
DE Hamilcar Rashed Jr.
WR Vyncint Smith
RB Josh Adams
TE Kenny Yeboah
Philadelphia Eagles roster cuts
DE JaQuan Bailey
RB Elijah Holyfield
TE Cary Angeline
LB Rashad Smith
WR Marken Michel
QB Nick Mullens
RB Jason Huntley
OL Ross Pierschbacher
DB Michael Jacquet
WR Andre Patton
DB Craig James
DL Raequan Williams
WR Travis Fulgham
WR John Hightower
DB Andrew Adams
DL Matt Leo
Pittsburgh Steelers roster cuts
TE Marcus Baugh
S Lamont Wade
RB Tony Brooks-James
CB Shakur Brown
DT T.J. Carter
WR Anthony Johnson
CB Lafayette Pitts
G Malcolm Pridgeon
WR Matthew Sexton
WR Tre Nixon
LS Kameron Canaday
P Jordan Berry
WR Rico Bussey
WR Anthony Johnson
San Francisco 49ers roster cuts
OL Senio Kelemete
C Jake Brendel
RB Josh Hokit
TE MyCole Pruitt
S Ha Ha Clinton-Dix
WR Travis Benjamin
WR Nsimba Webster
DB Alexander Myres
TE Jordan Matthews
Seattle Seahawks roster cuts
WR Darece Roberson
TE Ian Bunting
TE Cam Sutton
OL Tommy Champion
OL Jared Hocker
WR Travis Toivonen
DL Jarrod Hewitt
CB John Reid
OL Jordan Simmons
TE Tyler Mabry
WR Connor Wedington
OL Brad Lundblade
WR Cody Thompson
DB Gavin Heslop
WR Aaron Fuller
LB Lakiem William
Tampa Bay Buccaneers roster cuts
CB Antonio Hamilton
TE Tanner Hudson
LB Joe Jones
TE Jerrell Adams
LB Elijah Ponder
WR Jaydon Mickens
WR Travin Jonsen
DB Chris Wilcox
DB Herb Miller
TE Codey McElroy
WR Cyril Grayson
Tennessee Titans roster cuts
LB John Simon
S Clayton Geathers
DL Freedom Akinmoladun
LB Cassh Maluia
DB Nate Brooks
DL Kobe Smith
RB Javian Hawkins
OL Chandon Herring
OL Brett Qvale
DL Jeremiah Ledbetter
OL Brandon Walton
WR Mason Kinsey
TE Miller Forristall
WR Dez Fitzpatrick
OL Jordan Roos
Washington Football Team roster cuts
QB Steven Montez
OL Jon Toth
RB Jonathan Williams
WR Antonio Gandy-Golden
RB Peyton Barber
OT David Sharpe
DE Bunmi Rotimi
OL Wes Martin
CB Jimmy Moreland
S Jeremy Reaves
OT David Steinmetz
DE William Bradley-King
CB Danny Johnson
LB Jordan Kunaszyk
DB Linden Stephens
DB Cole Luke
TE Caleb Wilson
LB Joe Walker
WR Isaiah Wright
DL Devaroe Lawrence
DL Daniel Wise
C Keith Ismael
DT Gabe Wright
OL Beau Benzschawel
LB Jared Norris
LB David Mayo