George Santos Upset John Kennedy Called Him 'Bunny Boiler'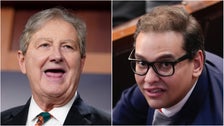 Kennedy called out Santos on Monday for being "nutty as a fruitcake" as well as a "bunny boiler," a reference to Glenn Close's psychotic character in the 1987 film "Fatal Attraction."
"I don't know if you've seen [the film], but there are people like that out there," Kennedy told reporters.
On Tuesday, Santos responded to Kennedy's comments ― and he wasn't pleased:
"I am saddened that a distinguished senator from the GOP, whom I've respected would use such derogatory language against me. Language like that is hurtful and divisive, and has no place in Congress."
Twitter users didn't seem too sympathetic about Santos' situation.
This wasn't Santos' only attack against his critics this week
"I have now been enshrined in late night TV history with all these impersonations, but they are all TERRIBLE so far," Santos tweeted. "Jon Lovitz is supposed to be one of the greatest comedians of all time and that was embarrassing — for him not me! These comedians need to step their game up."