Amazon Luxury Designer Sale – Amazon Fashion Sale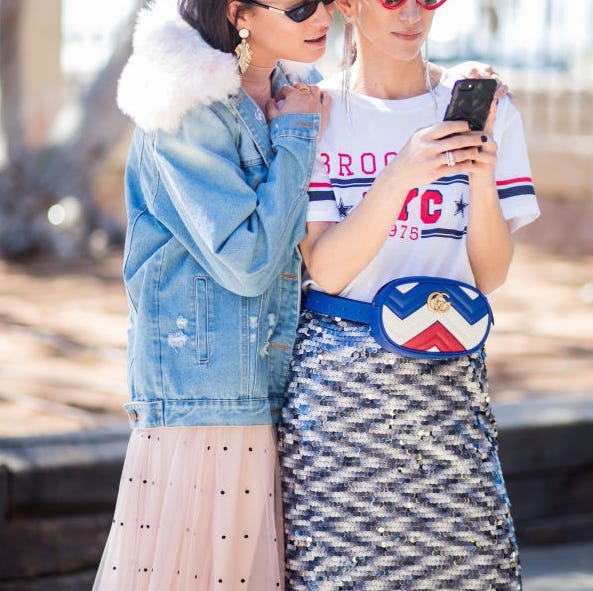 Christian VierigGetty Images
The Luxury Stores at Amazon—its impeccably curated, ultra-luxe area with a rotating edit of established and emerging designers—surprised us with a sale earlier this week. The mix includes some labels that you rarely see marked down (like Mark Cross and La Perla), playful picks that would slot perfectly into this summer's party wardrobe, and other too-good-to-ignore finds that you could start styling now and then really let sing come early fall (here's looking at you, gorgeous ivory Marina Moscone jacket).
Shop our edit below, then peruse the entire sale here.
J'aime Rodarte Embroidered Sweatshirt
Rodarte
amazon.com
$645.00
$387.00 (40% off)
If you're shelling out cash on a designer sweatshirt, it shouldn't be your standard crewneck. This one gets it, with golden embroidery and a poppy print.
Sade 75 Pump in Light Copper
Aquazzura
amazon.com
$775.00
$390.00 (50% off)
Remember heels? Weddings, reunions, overly dressed-up nights out with friends—'tis the season to get fancy again.
Lashford Dress
Roland Mouret
amazon.com
$1,995.00
$1,197.00 (40% off)
Tiptoe back into fashion with gorgeously draped and wrapped styles. Kinda like a bathrobe, but way chicer.
Grace Small Box in Taupe and Dusty Peach
Mark Cross
amazon.com
$2,290.00
$1,603.00 (30% off)
A classic shape that rarely goes on sale is the sort of item worth paying attention to (and scooping up). This iconic shape is one you'll hold onto for decades.
Rugiada Triangle Bra
La Perla
amazon.com
$375.00
$262.50 (30% off)
Not all bras are created equally. If you've dreamt of treating yourself to an ultra-luxe option, you couldn't do much better than this lacy pick from the storied Italian house.
Jacket With Belt in Pale Alabaster
Marina Moscone
amazon.com
$1,750.00
$1,050.00 (40% off)
Wear this now with gauzy dresses or cut-offs, then over your most boardroom-esque ensemble come next fall. It's a year-rounder, for sure.
Floral Printed Silk Skirt
Rodarte
amazon.com
$920.00
$644.00 (30% off)
A midi skirt is the length that keeps on giving, able to be easily styled for any season. Imagine how good this would look with a slouchy sweater come fall…
Boudoir 30 Sandal
Aquazzura
amazon.com
$725.00
$365.00 (50% off)
Looking at your calendar for the next few months and realizing stuff has actually been popping on there like crazy? Get set to go out again with a fun pair of slides.
Roseland Top in Powder Pink
Roland Mouret
amazon.com
$750.00
$450.00 (40% off)
Introduce some structure back into your wardrobe with a tailored, nipped-in silhouette that's got Roland Mouret written all over it.
This content is created and maintained by a third party, and imported onto this page to help users provide their email addresses. You may be able to find more information about this and similar content at piano.io